Lennox's Story - Music Therapy for the Soul...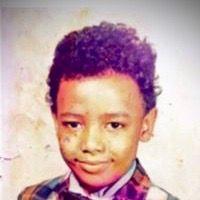 Lennox at about 8 yrs. old
I Knew I Loved Music by this age
"Have you ever loved something longer than you can remember when "The Love" for it started? Well... That's how I feel about writing songs and singing" ~ Lennox
Lennox Armstrong, An American singer /songwriter & music producer who takes you back to the time when grown men sang songs of love and pain. Smooth, soulful and heartfelt performances delivered with the secure tenderness of an experienced man. 
Born December 17Th (Sagittarius). Raised in Brooklyn, New York. Lives in Atlanta, GA. Hampton University graduate. Member of Kappa Alpha Psi, Inc. Married to Nicole Armstrong. King maker(Sons) Lennox, Miles and Lance are all musicians and Brandon is an academic studying for his Masters degree.
Current project: Music Therapy Vol. 1
Genres: Rhythm and Blues, Jazz, Neo soul, Soul, Gospel music
For bookings, interviews, Songwriting or Production please contact Lennox Armstrong Music at XonnelMusic@Gmail.com